How does sharing Suzanne Forbes' Free Art work?
I'm a documentary artist who draws live at events. My safe-for-work (no-nudity) live event drawings are crowdfunded, sponsored by my Patrons, via a subscription artist support platform.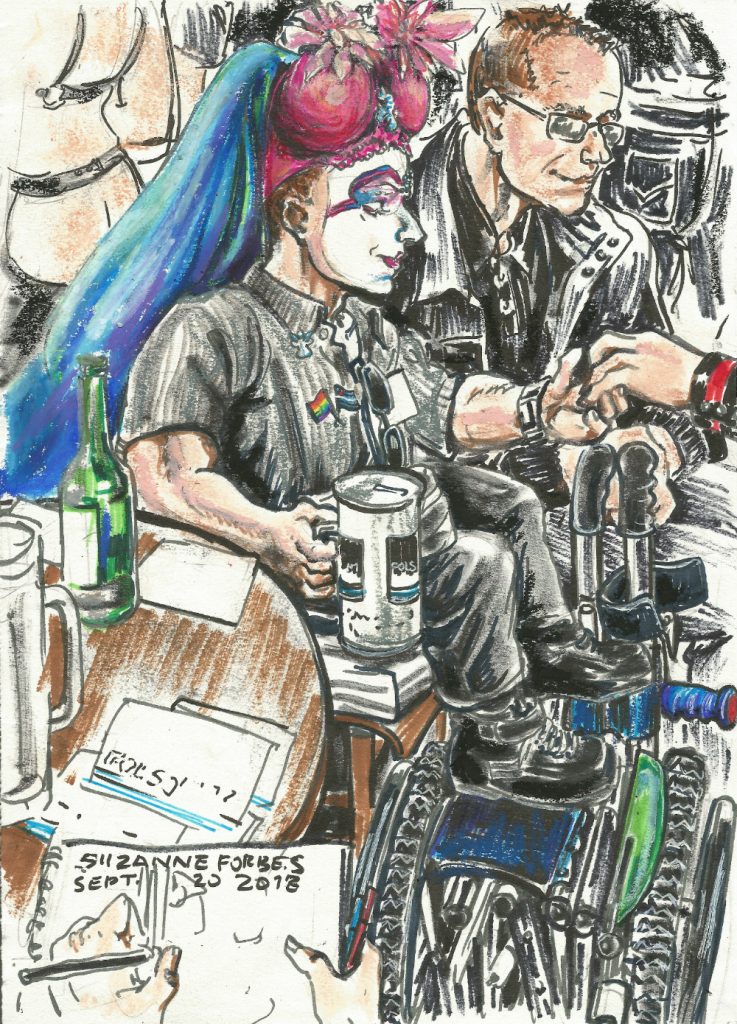 The Patrons sign up for the artist  support service; they pay whatever they want (you can help, a dollar or euro a month is great!)
Currently, my sexy art is funded by donations. Info on how to support my sexy art with more regular payments is coming soon! Meanwhile, you can buy me an alcohol-free drink, pass the hat or hand me a Euro if you see me out drawing.
I use any money you give/send me for sexy art to make documentary art of diverse, queer, kinky, sex-positive, real human moments of people living, performing, fucking and loving in Berlin.
I post the drawings as Free Art. They're free to use and share, as long as you credit me in writing as the artist. You can also print them and put them on your wall, or make yourself a t-shirt!
My mission is to be inclusive, representative, and supportive of all beings, gender identities and consensual lifestyles.
I post my documentary art on my blog and my flickr account, because flickr supports Creative Commons licensing. You can download my documentary drawings as Free Art.
99% of my live drawings are licensed Creative Commons
Attribution-NonCommercial-NoDerivatives 4.0 International

,

CC BY-NC-ND 4.0

If you credit me directly next to, on or underneath the art as Suzanne Forbes, artist, you can use them for any non-commercial purpose.

Share them anywhere, use as your twitter avatar, print out and frame at home, put on your holiday cards, show posters, your Instagram, whatever!!

In digital media, please also link to my blog:

or to this site,

(and if possible, to my Instagram, SuzanneForbesArtist. I don't have Facebook.)

You don't need to ask, it's Free Art.

But you do need to respect the license terms and credit me.
Need art with folx dancing for a poster for a queer event? I'm happy for you to use one of mine. They're for the community!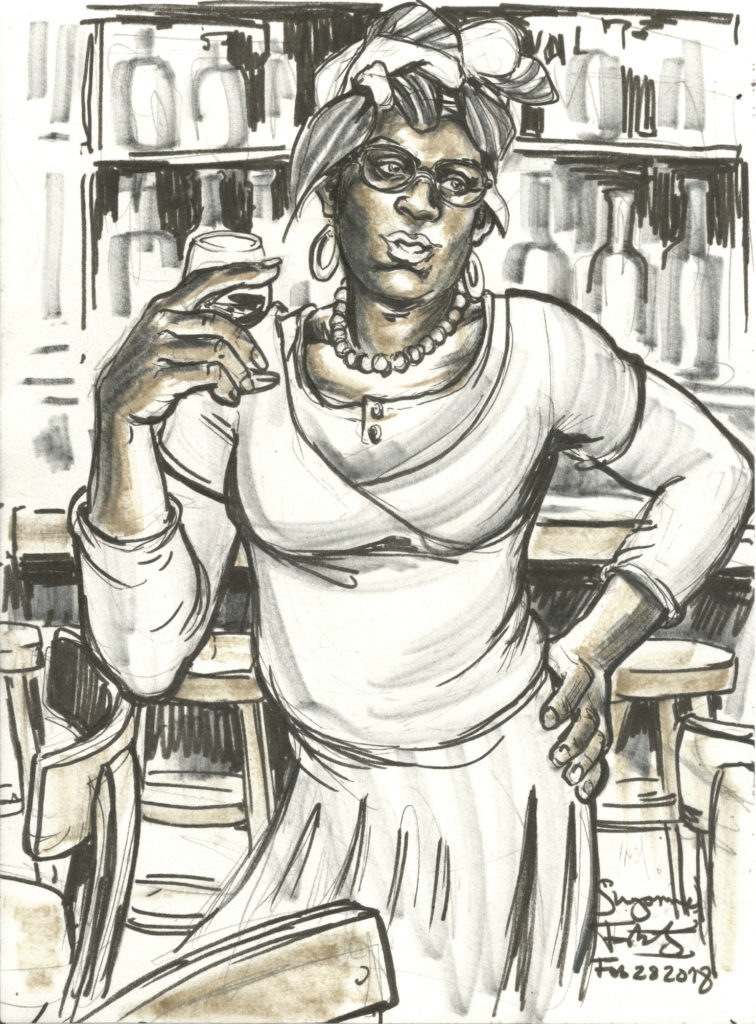 Musicians, artists, performers, business owners, if you or your business are depicted in the drawing you're welcome to use it to promote yourselves, on your website, on t-shirts or albums or posters for your own profit.  just credit me 🙂
for fucks' sake, just credit me. It's a dick move not to.
If you want to color them in with Photoshop or remix them with some other art, don't. That's what NoDerivs means.
If you find a drawing that says "All Rights Reserved", it's probably because the person in it is a public figure who profits from their likeness and I am respecting that. Or it was a private commission.
Don't copy or share those, ok?
My sexuality event drawing is made possible by donations for now. I hope to find a good crowdfunding site that allows porn soon.
I gotta get paid to make art. I'm a middle-aged, fat, disabled queer artist; I can't do the work if I don't get money for it. So if you share my site and encourage people to share it, and explain that I'm funded by donations, it will make my work documenting queer, intersectional, kinky Berlin life possible!
I don't use photographs and I don't make drawings from photo reference. I have to be there to draw. Sorry!*
Want to buy an original drawing that I made at an event? They're 50-75 euros to folks in the community. I don't ship art, so you or your agent must collect the drawing in Berlin.
My drawing of you makes you unhappy? I'll take it down, just ask! Want a higher res file? Just ask.
Want me to update how you're linked to or credited? Just ask! email me at
suzanneforbes (at) protonmail.com
Can't be bothered to include my full name, as artist, and the link to my site? FUCK YOU!
I'm a fairly nice person, but I am from New York, and I will dog walk you.
*Since the Covid-19 Pandemic began, I have been attending live figure drawing, burlesque events and drag shows via platforms like zoom and twitch. I have made many many drawings this way! It's not as good as being there, but it's pretty great 🙂