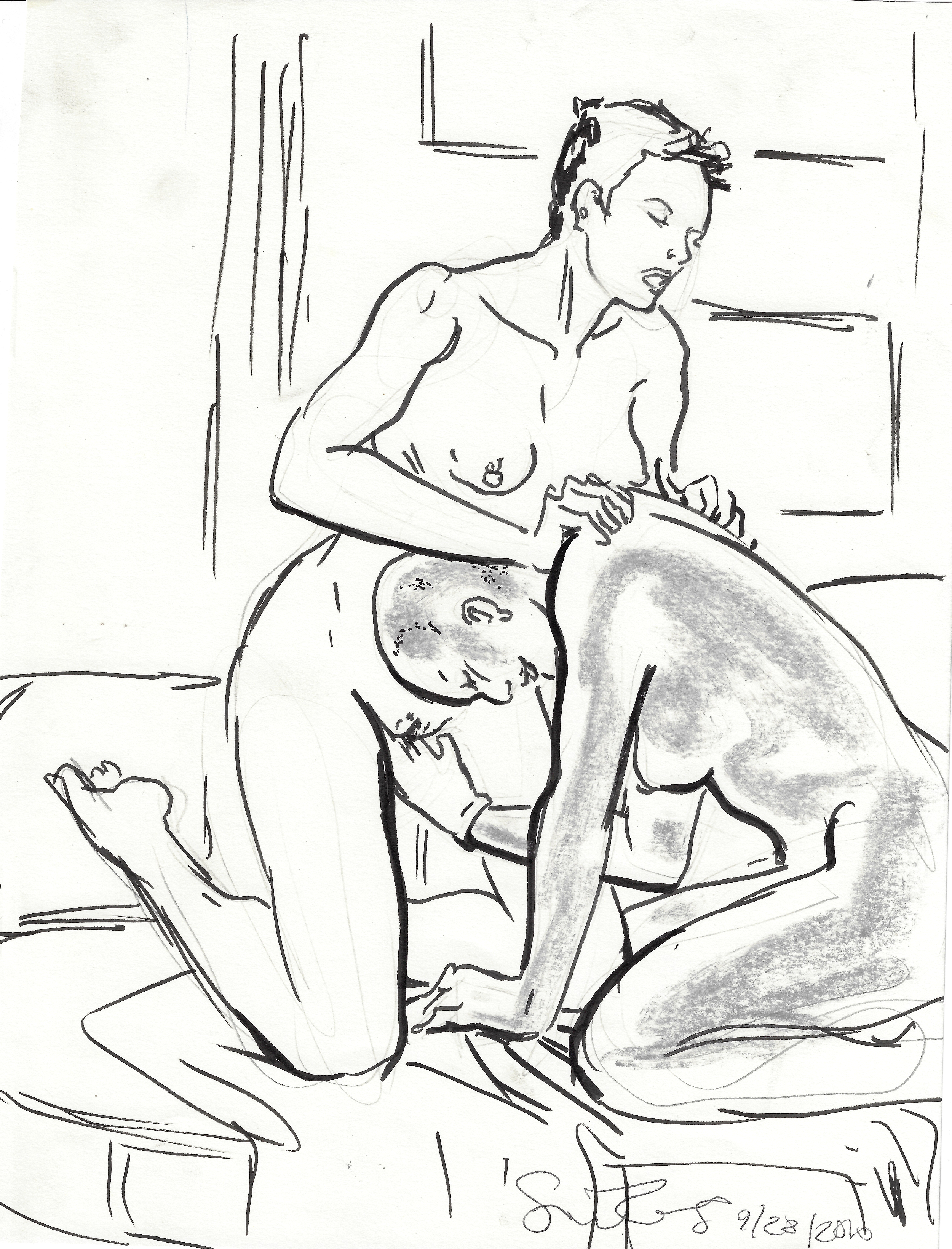 Some years ago I was invited by Jiz Lee to do my erotic documentary drawing at a porn shoot for Queer Porn TV in San Francisco.
It was 2010; there was still quite a lot of alt, indie and grassroots porn being made in the Bay Area.
Though some folx were beginning to move to Berlin, like my eternal muse Sadie Lune!
I had drawn Jiz several times before at Bay Area sex-positive events.
Both they and I had volunteered our talents at benefits for the Center for Sex and Culture and Femina Potens, Madison Young's revolutionary queer art gallery.
This was my first time drawing

Papí

though, and what a thrill!
I had such a good time. The room was warm and the performers were smoking!
They came up to me at the end of the shoot, glowing and sparking, like sex gods of legend!
I am so grateful to have witnessed and documented this beautiful encounter, and to celebrate these nonbinary, genderfluid performers!
Want to support Queer Porn and #payforyourporn?
You can watch the incredible hot and cute trailer and buy the shoot by becoming a member right here! clip here!
"Blurring the line between classic nude art and raunchy queer porn, genderqueer legends Jiz Lee and Pap Coxxx pose for Suzanne Forbes' pen.

It's only a matter of time, of course, before they can't hold their pose any longer. Sweet nipple teasing dissolves into passionate fucking and buckets of cum; it's all Forbes can do to keep up!

Jiz and Papí both love to switch, and they each penetrate the other with their realistic strap-on cocks and skilled hands. These two performers, who are known for ejaculating, deliver gushing orgasms that will take your breath away. Run Time: 14.35"
You are welcome to print these images for your own enjoyment, but not for any commercial use. Jiz and Papí have consented explicitly to the publication of these images.