Ten years ago I posed for photographic portraits by Libby Bulloff at Starfish Studios in Seattle.
Libby is an incredible artist who I met and drew through the Steampunk "Contraptors Lounge" at Maker Faire in 2008. Her photographs of the early days of Steampunk are exquisite; she defined the look of the movement. She has always been genderfluid and gender-affirming, and has extraordinary personal style.
In June of 2009 a portrait client flew me to Seattle to paint him with his mother, and I stayed with Libby for a few days too.
We did one of the many art trades that have enriched my life.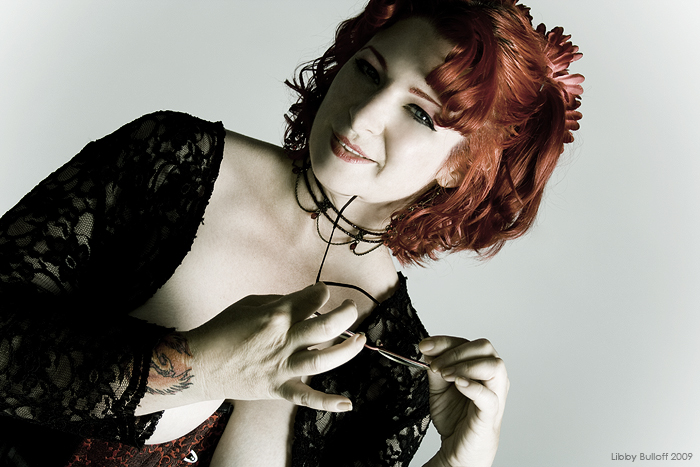 She photographed me, and I painted her, and it was lovely.
It was important to me to have images made of my beautiful breasts, as I was 42 and knew they wouldn't last forever. (They're holding up great though!) Libby was kind enough to oblige even though like me, she prefers her subjects with clothes.
I had had my breasts cast by a Burning Man artist at 34, and I had been posing nude since I was a girl. I first posed for nude photos for my lover Q, who went to Art & Design, when I was fourteen. Those photos of me nude, dancing to the Grateful Dead with a rose in my teeth, were shown in the hallways at Art and Design in 1981. Nudity is a historic part of artmaking.
I had such a safe and happy time posing for Libby. I knew I could trust her completely.
I absolutely believe it is 200% good to pose nude if you want to. For love, for money, for fun, for art. Nudity is beautiful when a being freely chooses to be naked. So is having sex on film, for fun, for art, (or for money, or all three!) freely chosen. I had sex on film when I was nineteen for a RISD student's art project, but the film was destroyed in an act of censorship by the lab, sadly.
Libby called this one "Subtexture".
My batwing coutil corset was custom made by Shaerie Mead of Lovely Creatures Corsetry and SEW LA, as part of another art trade.
All Rights Are Reserved on these photos, which belong to Libby; she holds the copyright and you may not download them to print as you can my own art on this site*. Libby still lives and works in Seattle, and is still making portrait art.
You can enjoy Henrietta's Eye, an extraordinary collaborative art project by Libby Bulloff and Stephen Robinson, here.
They make breathtaking wet plate collodion & alternative process photography images of individuals, couples, and groups. Their work is diverse, inclusive, and deeply moving. In or visiting Seattle? You can book your own portrait session. Buy prints from Libby and Stephen here! Or just give her a tip to help them keep making small-business, one-of-a-kind, bespoke art on antique equipment.
Here's the portrait I painted of Libby in 2009!

*It's much easier to control the print quality of a line drawing than a photograph. I'm confident you can print a nice quality print of my drawings on your home printer and I'm happy for you to do that to hang it up in your home or put on a t-shirt.
However, getting a high-quality print of a photograph is actually part of the photographer's art, and it's a complex process most photographers prefer to administer themselves.
That's why buying photographic prints from a photographer is a great investment, and I don't sell prints of my drawings. Also, I hate shipping things much more than most people because OCD.
If you want to see my tits while I'm out drawing, ask politely and give me a Euro (for the trouble of undoing my bra/corset/whatever). They're tits! They're nice! I live in Europe, tits are tits!