9pm in New York is 3am in Berlin, but I stayed up for this Distanced Drawing event!
I finally made it to a remote model session from the wonderful woman-run, sex-worker positive online life drawing group Distanced Drawing, because I just HAD to draw The Midnight Foxes !!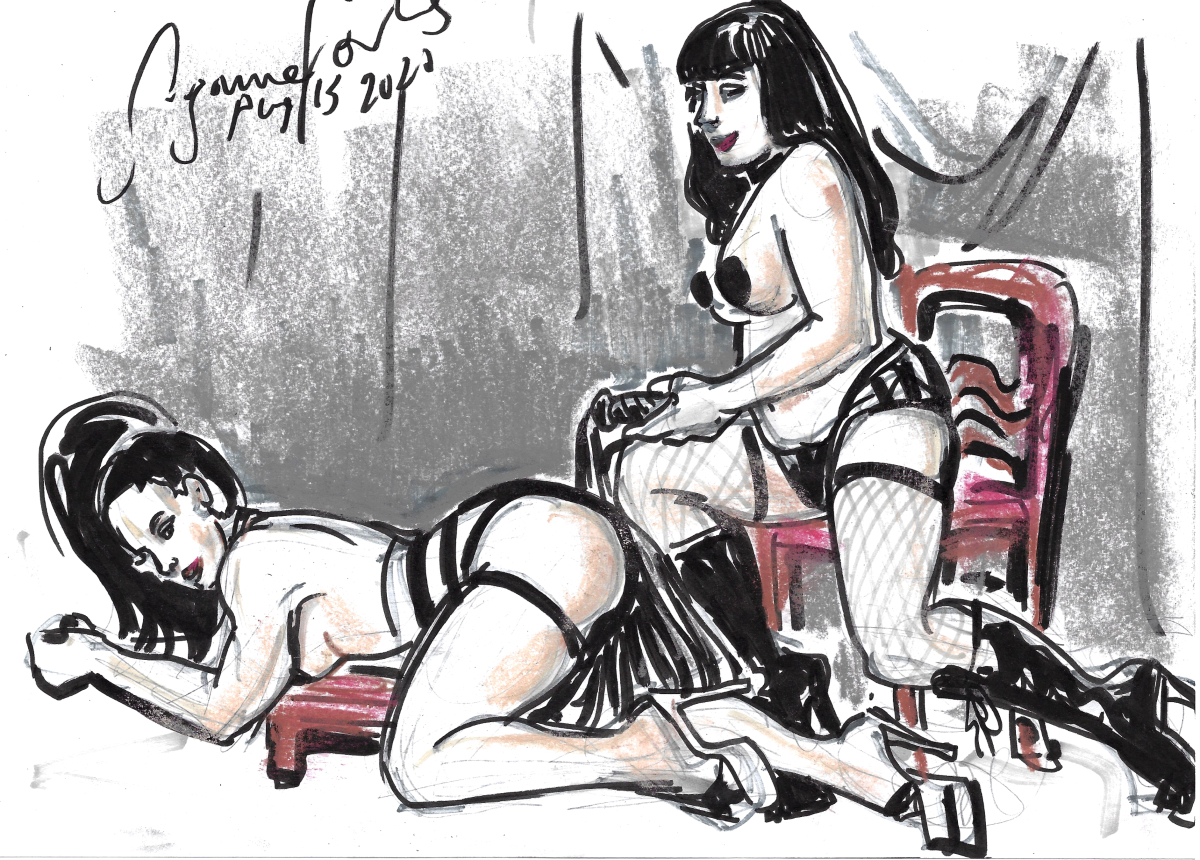 I had seen the Foxes in a very filthy show produced by The Brides of Burlesque and been blown away.
So little, so pretty, so STRONG, so KINKY!!!
The petite performers Medianoche and The Ivory Fox gave an absolutely marvelous series of inventive poses, all glowing with queer chemistry and true vintage fetish style. Enchanting!!!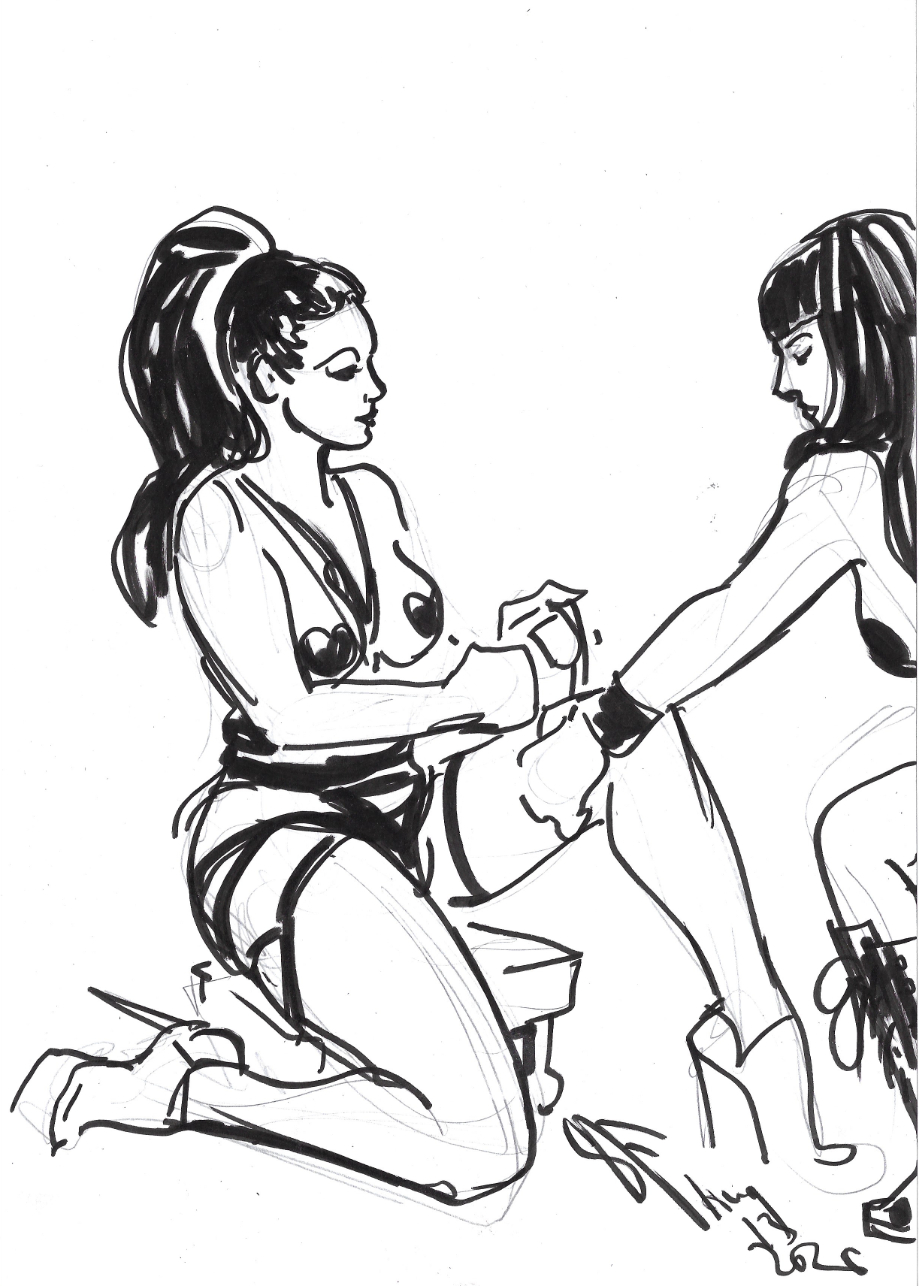 MediaNoche, left is Miss Exotic World and Queen of Burlesque 2017!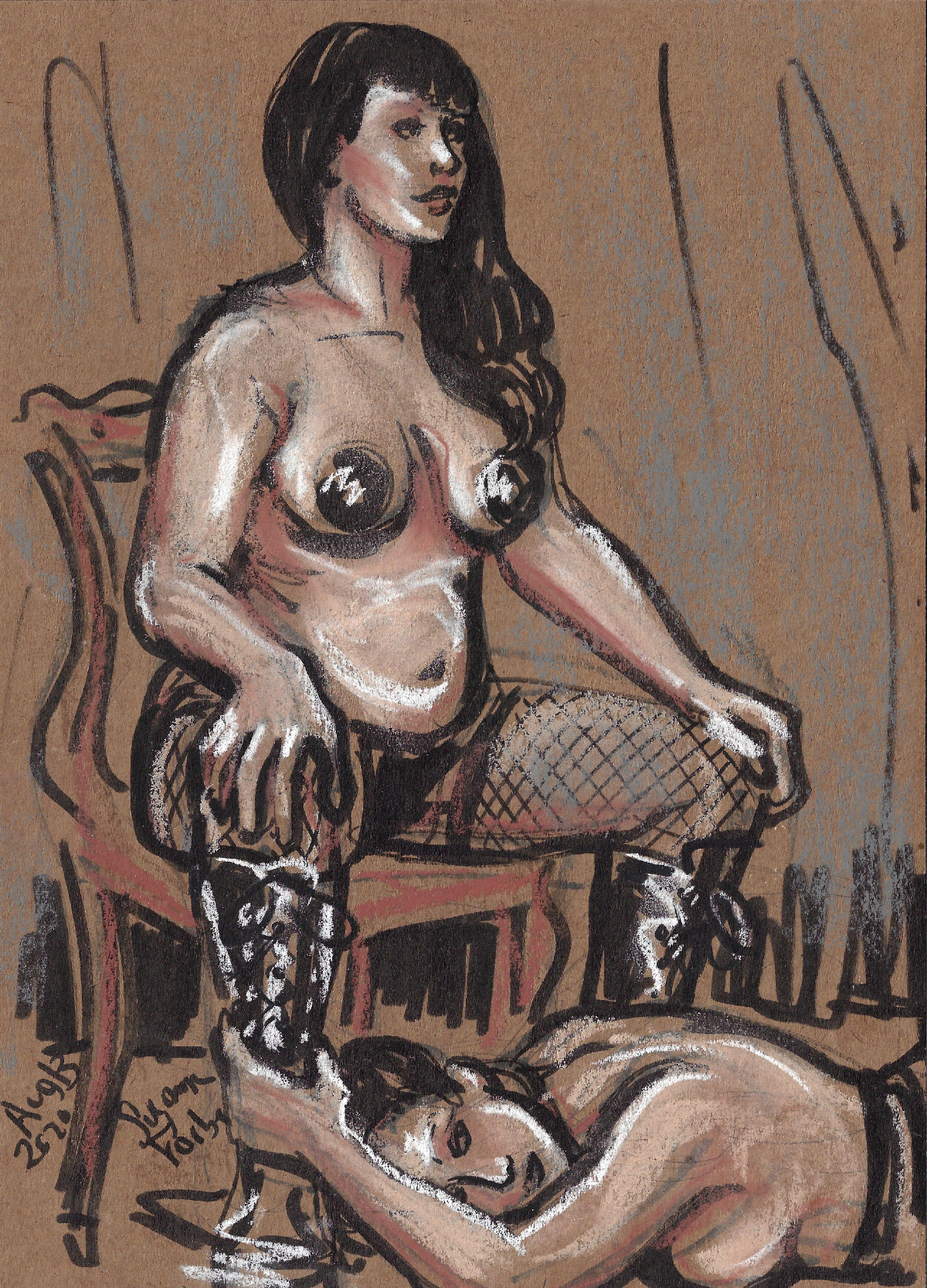 The Ivory Fox, seated above, also takes gorgeous photos of Medianoche!
I had so much fun drawing these two.
They are tremendous performers and models; they created so many beautiful shapes and interactions.
Love that vintage fetish style!
The Ivory Fox rocked classic Bettie Page hair and gave me a chance to really work on drawing the way the style moves on a living, moving person.
Because of censorship problems on US platforms, I also created censored versions of my Midnight Foxes drawings using nail art lace decals.
You can see Medianoche in a similar look here, using a Playful Promises (sex-worker positive company!) black lace bralette over pasties. She has an OnlyFans where you can support her by checking out saucy looks as well! And don't miss Damsels in Control, her gallery of gorgeous feminist pin-ups!
Using "feminine"-coded materials like nail-art decals, which also references the Letraset and Letratype of my illustration youth, is meta, and also pretty.
But you know what? It sucks to censor women's bodies in order to be in compliance with the TOS of my PayHertre0n account. FOSTA-SESTA is an evil law that has deeply harmed, and continues to harm, the very people it purports to protect. As well as those no one seemed to care about protecting, male sex workers! Chilling effect is chilling, and the knock-on free speech effects on artists and everyone else have been devastating. I live in Europe, though, and my sites are registered and hosted in Europe, so I can show you the full glory of The Midnight Foxes here.
I encourage you to support these incredible queer NYC nightlife performers, who have been hit so hard by the economic devastation of COVID-19 in the US.